IGEN holds 2019 national meeting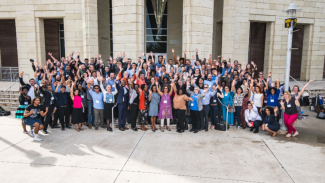 Photos by: Carlos Romero, © 2019 Romero Photoworks
IGEN held its first national meeting in collaboration with the University of Central Florida (UCF) Physics Department on October 26-27, 2019. Over 100 STEM professionals and 60 graduate students participated!
Students engaged in workshops where they created personal development plans, explored career pathways, learned not only about navigating graduate school from near-peers but also self-care and well-being techniques from counseling and psychological services professionals. They also participated in a student poster session where they shared their own work and learned about the work of their peers.
Professionals attending the meeting participated in sessions designed to help them learn about and develop skills using inclusive practices. Perhaps everyone's favorite part was getting a chance to network and get to know others in the community.
Check out participant perspectives on the meeting through LinkedIn and Twitter!
View the complete 2019 IGEN National Meeting photo gallery here.