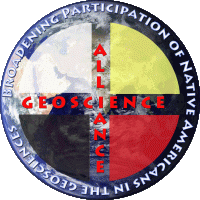 IGEN Engagement
The Geoscience Alliance, which is an alliance partner of IGEN, will inform undergraduates about the value of graduate education and help to demystify the process of applying to graduate school. They will also participate in the yearly ACT retreat in order to reflect on the project outcomes from the previous year and set the agenda for the next year. 
About the Alliance
The Geoscience Alliance is a national alliance of individuals committed to broadening participation of Native Americans in the geosciences. Its members are faculty from tribal colleges, universities, and research centers; native elders and community members; industry and corporate representatives, students (K12, undergraduate, and graduate); formal and informal educators; and other interested individuals. The goals of the Geoscience Alliance are to:
Create new collaborations in support of geoscience education for Native American students,
Establish a new research agenda aimed at closing gaps in our knowledge on barriers and best practices related to Native American participation in the geosciences,
Increase participation by Native Americans in setting the national research agenda on issues in the geosciences, and particularly those that impact Native lands,
Provide a forum to communicate educational opportunities for Native American students in geoscience programs, and
To understand and respect indigenous traditional knowledge.
Special thanks to the National Center for Earth-surface Dynamics, an NSF-funded Science and Technology Center, for their ongoing support of the Geoscience Alliance.