Short Guide to Graduate Student Debt Relief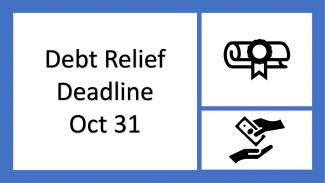 The Research Hub and Equity in Graduate Education Resource Center have developed a short guide to graduate student debt relief. In it, we offer several ways you can help get the word out to the grad ed community about opportunities that the Biden-Harris administration has made available. Especially timely is reaching our spheres of influence with information about applying for the Public Service Loan Forgiveness program which has a hard deadline of October 31.
We encourage you to review this short guide and send a version of this letter (also linked on page 3 of the guide) to students in your Bridge programs or who are otherwise associated with your society. If you have postdoc or other early career researcher lists, those may also be good audiences to receive this information!