Equity in Science: Representation, Culture, and the Dynamics of Change in Graduate Education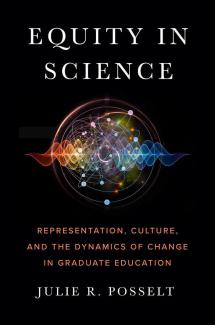 A new book by Julie R. Posselt – IGEN Research Hub Director
The reviews are in...
"Using a conceptual framework built on the idea of small wins coupled with relational and systems thinking, this book builds a powerful case that a single-minded focus on admissions is not enough to move the needle on diversity and inclusion in STEM fields. Through a series of powerful case studies, the author demonstrates that real cultural change in graduate education is possible when there is intentionality to recruitment and admissions practices, the development of curricula and inclusive pedagogues, and attention to mentoring and the language we use."
—Suzanne T. Ortega, President, Council of Graduate Schools
"Equity in Science is an invaluable resource for anyone interested in making graduate education more diverse, inclusive, and fair. Dr. Posselt charts a path for departments and disciplines interested in moving beyond superficial commitments to diversity by highlighting the deep cultural changes needed to transform exclusionary disciplinary histories. Of course, cultural change is never easy, but she convincingly shows how successful attempts at creating truly inclusive learning environments can harness the strengths of disciplinary cultures to create lasting structural change."
—Victor E. Ray, Professor of Sociology, The University of Iowa
"An informative blend of theory and case study, Posselt's book focuses on how to change the culture in graduate STEM education. She offers valuable food for thought as well as a pressing challenge for the community. A must-read for faculty and administrators alike."
—Meg Urry, Professor of Physics, Yale University
In Equity in Science, Julie R. Posselt examines existing equity, diversity, and inclusion efforts across astronomy, physics, chemistry, geology, and psychology. These ethnographic case studies reveal the subtle ways that exclusion and power operate in scientific organizations and, sometimes, within change efforts themselves. Posselt argues that accelerating the movement for inclusion in science requires more effective collaboration across boundaries that typically separate people and scholars—across the social and natural sciences, across the faculty-student-administrator roles, and across race, gender, and other social identities. Ultimately this book is a call for academia to place equal value on expertise, and on those who do the work of cultural translation.

Julie R. Posselt is Associate Professor of Higher Education at the University of Southern California.

Save 20% on this book when you order on our website using the discount code POSSELT20.

Stanford University Press | 425 Broadway, Redwood City, CA 94063 | advertising@www.sup.org