2021 IGEN National Meeting Save The Date!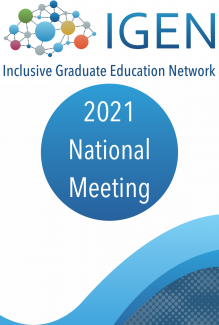 Save the Date!
2021 IGEN National Meeting
June 14-17, 2021
We've begun to plan the IGEN 2021 National Meeting which is tentatively set for June 14-17, 2021. We'd love your input on the program! If you'd like to share suggestions for the program or are willing to volunteer during the meeting, please complete the linked form. We want to make the meeting planning and the meeting itself as inclusive as possible.
The IGEN National Meeting provides an opportunity for organizations and individuals dedicated to advancing equity for Black, Latinx and Indigenous students in STEM graduate education to share ideas, learn together and develop/strengthen their networks.