Resources for supporting grad student wellbeing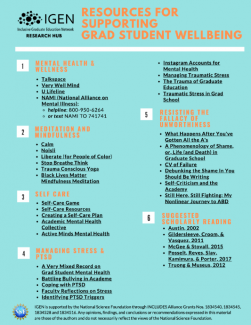 IGEN's Research Hub team at USC has developed a set of resources that support graduate student well-being.
Recognizing that one's anxieties are amplified during such a time as working towards earning an advanced degree, this interactive PDF document offers links to a combination of tools, websites, reflective commentaries, and research articles that we hope will resonate with students and postdocs. Please distribute widely! Special thanks to Aireale Rodgers for taking the lead on this effort at the Research Hub!
Download this free PDF resource available in the IGEN Resource Library here.