Panel on preparing admissions and recruitment for the effects of COVID-19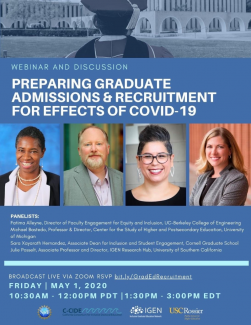 Join us for a panel discussion addressing recruitment and admissions challenges facing graduate education in light of COVID-19. How should we communicate with incoming and prospective students given universities' quickly changing policy landscape? How can we design holistic review processes that account for new variations in applicant grades, experiences, and obstacles during this time?
Panelists Fatima Alleyne (UC Berkeley), Michael Bastedo (U. Michigan), Sarah Xayarath Hernandez (Cornell U.) and Julie Posselt (USC) will present research and institutional responses that, together, highlight paths for administrators and faculty toward equitable enrollment management.